Oligomax Multimineral - 150ml
NUTERGIA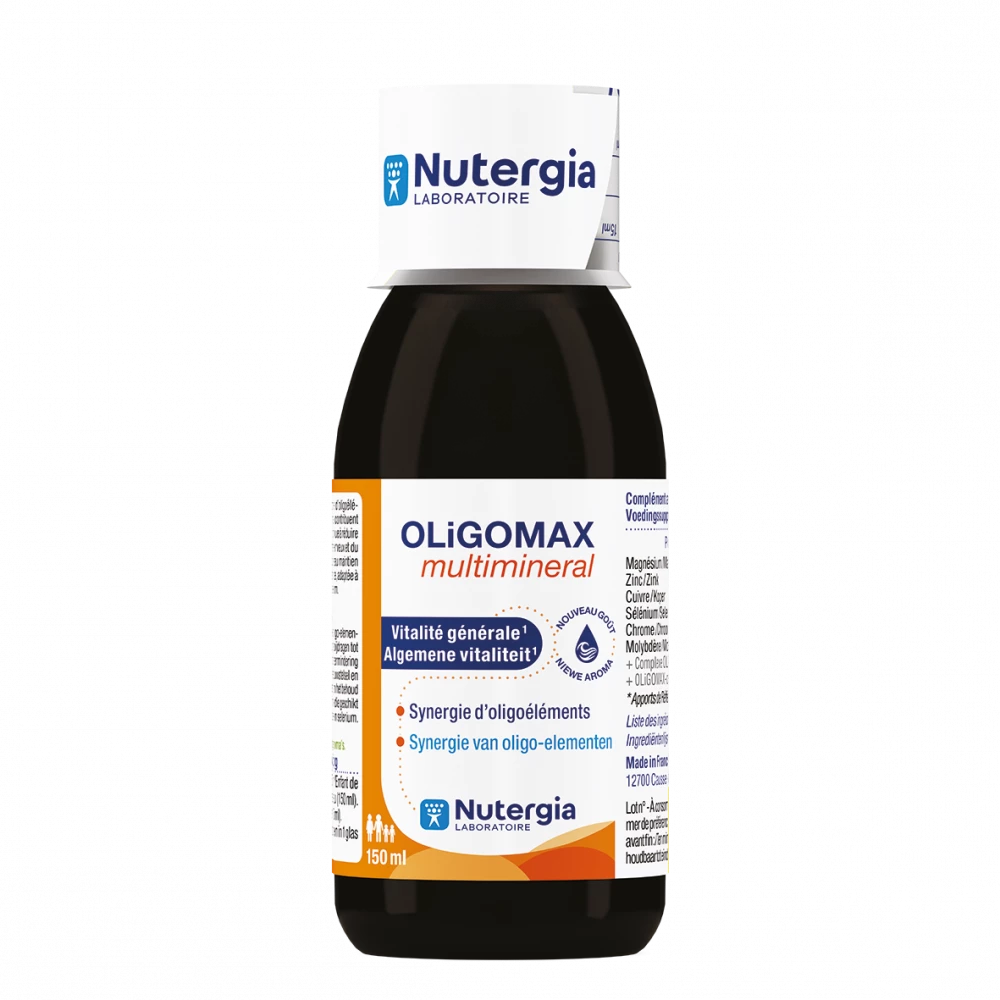 Oligomax Multimineral - 150ml
NUTERGIA
NG4565-941
Voedingssupplement op basis van ontzilt zeewaterconcentraat en gepatenteerd Frans lithothamniumextract, bronnen van mineralen en oligo-elementen. Vroeger Ergybiol
Delivery time: 1 business day
OLiGOMAX multimineral is de algemene OLiGOMAX voor de hele familie. Het bevat een combinatie van alle oligo-elementen, waardoor het bijdraagt aan de algemene vitaliteit van het lichaam en aan al onze celreacties.
OLiGOMAX multimineral is een complete combinatie van oligo-elementen, ontzilt zeewater en lithothamniumextract die bijdragen aan het algemene welzijn van het lichaam. Magnesium draagt bij aan het verminderen van vermoeidheid en aan de normale werking van het zenuwstelsel en het energiemetabolisme. Koper en zink nemen deel aan het behoud van de goede werking van het immuunsysteem en selenium helpt de cellen te beschermen tegen oxidatieve stress.
De formule, die geschikt is voor de hele familie, is ook rijk aan chroom en molybdeen.
Nieuwe smaak
Bevat geen alcohol, suiker, zoetstoffen of kunstmatige aroma's.
Wanneer is het product aanbevolen?
OLiGOMAX multimineral kan worden aanbevolen bij algemene vermoeidheid en als seizoenssupplement voor het hele gezin.
GEBRUIKS-/CONSERVERINGSADVIES:
5 ml per dag opgelost in 1 glas water (150 ml).
Kinderen van 1 tot 6 jaar: 2,5 ml per dag opgelost in 1 glas water (150 ml).
Een lichte verkleuring of bezinksel is normaal, goed schudden vóór gebruik.
Doseren is eenvoudig dankzij de handige doseerdop.
Buiten het bereik van kinderen bewaren, op een droge plaats, bij een temperatuur onder de 25°C.

Per 5 ml
Referentie-Innames
Magnesium

56 mg

15%

Zink

1,5 mg

15%

Koper

0,2 mg

20%

Selenium

25 µg

45%

Chroom

18 µg

45%

Molybdeen

18 µg

36%


Ingrediëntenlijst :
Vloeibare oplossing van oligo-elementen (gefilterd water, geconcentreerd ontzilt zeewater, gepatenteerd gestandaardiseerd lithothamniumextract - Phymatolithon calcareum Pall., zink-, ijzer- en kopergluconaat, chroomchloride, mangaansulfaat, natriumseleniet en -molybdaat), magnesiumcitraat-malaat, conserveermiddel: kaliumsorbaat; zuurteregelaar: kaliumhydroxide; natuurlijk aroma.
---
Free from:

Sugar

Raw Material:

Chrome

, Copper

, Magnesium

, Molybdeen

, Selenium

, Zinc